A Full Dish of Acoustic Rock

One More Time Around The Block Tour 2014
This Week! Friday 8:30 PM Lucky Strikes Lounge (Market place shopping center) Cold beer,drinks and billiards,friendly folks !
Saturday: 7:00 Old American Fish (Southport) Last show for us on the water this season ! Come on out for great seafood and music!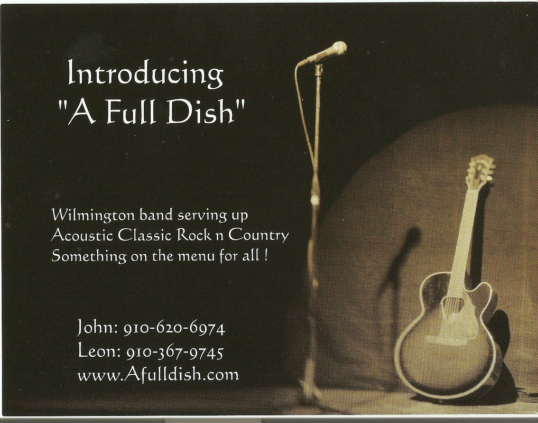 A Full Dish is from Wilmington , North Carolina , Ogden, and every state of mind one can dream of. We play in the surrounding restaurants , swamps and backyard grills of the Cape Fear area. Our music spans generations of your favorite records, 8 tracks,cassettes, CD's , and MP3's depending on what side of the music time line you fall on.
You may be 7 or 70 years of age and I bet you will find something in an evening with " A Full Dish " that has you tapping , humming , singing , dancing , reminiscing , grooving , cuddling , or making downright silly grins to the other folks at your table or " space " in said place.
A Full Dish serves up Classic Rock ( both kinds "Roll " and "Southern " , Country,pop and some that ain't even classified !
John Glover
is the lead vocalist and plays harps, 6string and 12 string and guitars.
Leon Felton
plays a full set of percussion (Congas,bongos,shakers, ect.) and shares the vocals and harps with John.
Mark Moore
has joined up with Full Dish for the "Tour that never ends"
One more time around the block!
and is now doing time with us as our bass player and backing vocals. When things slow down a bit,he will grace us with guitar and possibly mandolin.It is a true pleasure to have him aboard.
Alex Glover,
our former bass player has moved on to a new band with friends called "
Just Yesterday"
.You can find them on
Facebook
and around town at
Katy's
and
Carolina Ale House
. If you liked the "Grunge" scene of the 90's,aka Pearl Jam,Nirvana,Alice in Chains,you will love these guys.You can also visit Alex at
WWW.Wavesofpaint.com
Our friends and family who frequent these establishments , backyards and such have contributed greatly to our
" One More Time Around the Block Tour " ,
tour that never ends .
We could not do this without you hootin and hollering and prodding on the other folks to do the same.
We hope you will continue coming out and bring more friends and your families to spend an evening with us . Support your local musicians and all live music in the area . We need you all !
If you just close your eyes and open your ears , we can be any star you want us to be and every venue is the Filmore. Have fun , we are.
A Full Dish entertains at local dining and eating establishments and also books private parties for any occasion or event.Give us a call and pass the Dish around . For smaller venues and parties try out the duo of
JonLeon
.We also play a wide variety of tunes ranging from Paul Simon to the Avett Brothers, The Beatles,and more. Catch us around the area at
Buffalo Wild Wings , The Beach House, Holiday Inn Sun Spree, Liberty Tavern,The Mad Boar in Wallace, Old American Fish Co., Yacht Basin Eatery in Southport, and our Duo ( Jon Leon ) at Sweet N Savory Cafe, Henry's on Independence